How to prepare your trees for the fall and winter months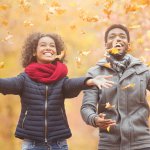 Leaves which left their mark in this world
Northern Virginia brings about some of the most beautiful fall colors in the country.  Last year, we saw some of the most vibrant colors in years because of the very heavy rainfalls.  This shows us just how important water is to bring out its best.  Most people tend only water grass and plants during the summer months but trees need that water too.
Below are a few tips to help keep your trees healthy and ready for the cool and cold months ahead of us.
Many trees in Northern Virginia tend to be susceptible to disease, like Dogwoods.  Peter's Landscape Inc. recommends that you thoroughly rake and remove fallen leaves.  Leaves left on the ground during the fall and winter months can suffocate plants and grass, leading to the spread of unwanted diseases, especially in urban and suburban areas like Northern Virginia.  In natural settings like a forest, trees and plants are organically protected.
If trees are not prone to disease, leaves can usually be left in a place where they are mulched or shredded by your lawnmower.  But sometimes, left in place, it can still suffocate your grass, which may leave it bare come springtime.  If there is any disease, you may have a harder time getting grass to grow.  Another alternative for the leaves is to turn them into compost for a garden bed.
Doing this correctly can make a world of difference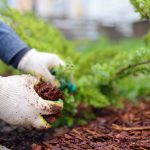 Mulch helps to retain soil temperatures and moisture as winter approaches.  When putting down mulch, make sure to keep it away from the root flare of the tree and the trunk and make sure that it is 2-4 inches thick.  Please make sure not to over mulch because it will suffocate your tree from the oxygen needed.  Organic mulch blends with the soil around the tree, to help prevent weeds and enhances vital nutrients.
May a good trim will help
You may have already noticed that some leaves have already started to fall and it's only early September.  After all the leaves have fallen, it's a very good idea to take a look at your trees to see if there are parts that are dead, or diseased.  Pruning and removing dead branches and limbs which look dead will help reduce the risk of them falling during windy fall and wintery days.  Because we tend to have some heavy windy fall and winter days and days with ice, it's not a bad idea to put rope or cables to braces the limbs so they are well protected for the winter weather.  For small bushes and plants, you can use twine or string.
If you need assistance with pruning or removal of dead trees, we have over 25 years of experience and a 24X7 tree emergency number, which is always great to plug into your phone. (703) 327-2845.